Sponsored Links
Make a Payment
Click here, then enter the "specific TSPA activity, location, price and participant full name" in the description and the corresponding amount. For example, Milos Raonic, Caldwell, $340 one week, tennis racket $35. Then enter the total i.e. $375.

PayPal and email: Our email is info@tspa.ca. Use TSPA as secret answer.
Consult our price list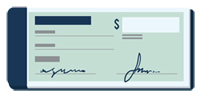 Cheque
TSPA Inc.
5800 Cavendish Blvd. CP Cavendish Mall
P.O. Box 66534
CSL, Quebec H4W 3J6
Buy now, we'll bill you later
You may also choose to use TSPA Pay -- a fast, easy way to make a payment. We keep your credit card on file and charge it once your service or product has been consumed or delivered. Please note that there is no tax on camp and food fees. However, tennis lessons (clinics and private lessons) are plus tax. Please include the following tax numbers: 805435690RT0001 for GST and 1215794608 for PST.